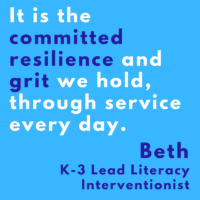 Chaos, Camaraderie, and Constants
Chaos, Camaraderie, and Constants
Elizabeth, K-3 Reading Corps, Detroit
Chaos is the background noise,
drowning everything in its wake.
Found in the resounding silence when the technology inevitably breaks.
It is the changing status of absent, present, and away;
that dictates our day to day.
Camaraderie is the busy chats,
the likes, agrees, and supports too.
Created in the troubleshoots, limitless, to which we can all relate.
It is the frustration, laughing, and caring too,
which pushes us through the day.
Constants are the computers whir,
and the ringing of a call.
Built in each routines repeat, and the habits we install.
It is the committed resilience and grit we hold,
through service every day.