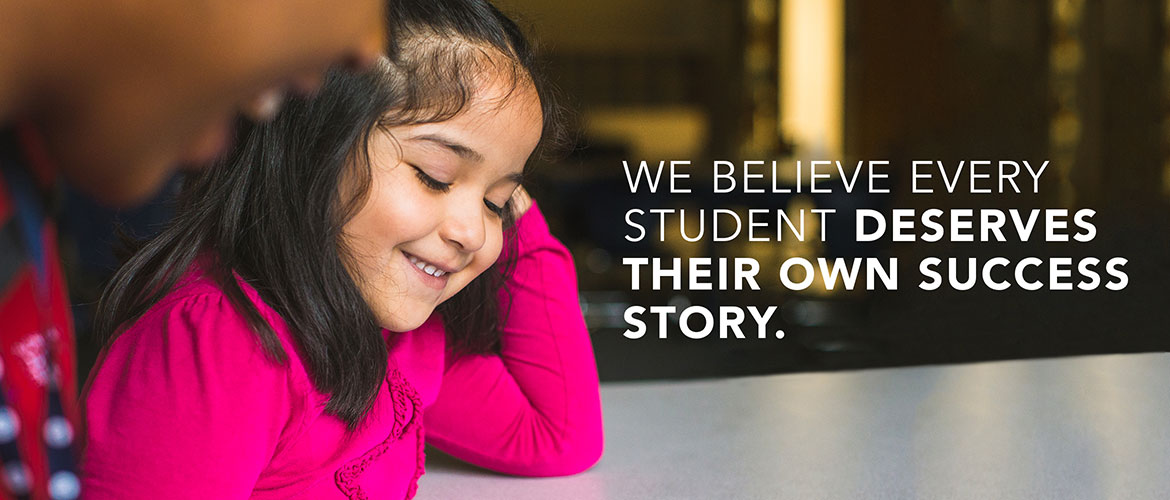 here's how we make reading and math
less of a challenge.
Our Mission
Empower Michigan kids to reach their highest level of academic achievement in reading and math.
How we achieve our mission
Reading Corps places AmeriCorps interventionists in elementary schools. They serve 15-18 kindergarten - third-grade students using 1:1 evidence-based literacy interventionists for 20 minutes each day.
Early Learning Corps places one AmeriCorps interventionist in a preschool classroom full-time. Interventionists provide supplemental language and literacy-rich interventions for every child. Interventionists may also serve small groups or individual children for brief early literacy interventions.
MEC Math Corps places AmeriCorps interventionists in elementary or middle schools. They serve pairs of students across grades 4-8 with supplemental math intervention for a total of 90 minutes per week, reaching about 24 children a week.
No matter the program model, our team focuses on data-driven decision-making and evidence-based intervention. These characteristics, in combination with our training and coaching model, ensures that Michigan children can be successful in school and life.
supporting our interventionists
Students in our program receive individualized attention in their own school, five days per week, over the course of the school year. We isolate each child's challenges and create a tutoring schedule to help them catch up to their peers.
OUR MEMBERS MAKE IT POSSIBLE
To get students back on track, we partner with AmeriCorps members—individuals on the front lines of our service. We call them "interventionists," but students know them as role models and trustworthy friends.
"WE DO SO MUCH MORE THAN TEACH KIDS TO READ. WE BECOME A CONSTANT IN THEIR LIVES AND SHOW THEM DAILY THAT ANYTHING IS POSSIBLE."
— BRITTANY COX, AMERICORPS MEMBER
We Are Dead Serious
About Your Business
ProBiz Solutions
Our patented business solutions are unique and can be incorporated into almost any type of company.
Improve With ProBiz
No matter how well your business runs, there is always room for improvement, and ProBiz are the experts for this.
ProBiz And Growth
Under the wings of ProBiz, you will witness a business growth in a short amount of time. A week is all you need.
Our Services
We use our own patented system called CCC, short for Clients, Culture and Company. Our specialists are able to "infiltrate" all company sections and analyze for areas where improvement is needed. No matter what problem we discover, we have a solution and our specialists are ready for the job.