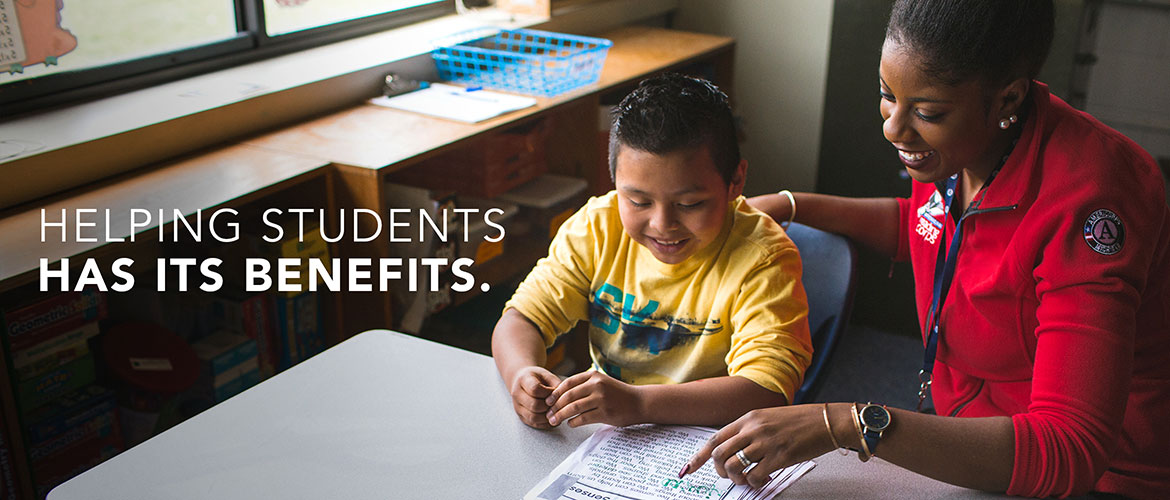 IT PAYS TO HELP

A CHILD SUCCEED.
Competitive Living Stipend
Credentialing Opportunities
Childcare assistance
Student Loan Forbearance
Free health insurance
Eli Segal AmeriCorps Education Award
Training and coaching
Competitive Living Stipend
Credentialing Opportunities
Student Loan Forbearance
Eli Segal AmeriCorps Education Award
Training and coaching
READY TO SERVE? APPLY NOW:
SEE THE PROGRAMS AT A GLANCE:
MEC Member
education opportunities
Through robust training and ongoing training, we believe that MEC interventionists complete their service term with the skills and experiences needed to become high-quality educators. For this reason, we have partnered with multiple universities and credentialing agencies to offer each MEC interventionist the opportunity to become an educator.
Davenport University offers a tuition discount for any MEC interventionist who enrolls in the College of Urban Education graduate level programs. For more information about these programs, check out their website. Further, all Davenport University students have the opportunity to earn elective credit while serving with Michigan Education Corps.
In partnership with Vibrant Futures, Early Learning Corps Interventionists who begin their service term in August/September are able to complete their Child Development Associate (CDA) credential. With a CDA credential, you will be on your way to a career in early childhood education!
For more information on any of these opportunities, please contact us.
WHAT IS 
AMERICORPS?
AmeriCorps is a national service program that connects organizations and community members to improve their communities and foster civic engagement. Michigan Education Corps receives funding from AmeriCorps so that we can provide literacy and math interventions in Michigan schools. All of the interventionists who serve with our program are serving as AmeriCorps members. AmeriCorps is a service commitment, not a job, employment, work or volunteering. We take this commitment very seriously. After we select and train an interventionist, we rely on that interventionist for the entire school year – no substitutes or replacements.
Eli Segal AmeriCorps
Education Award
Individuals who successfully complete their service term may receive the Eli Segal AmeriCorps Education Award. The award may be used to pay educational expenses at eligible post-secondary institutions, including many technical schools and G.I. Bill approved programs, or to repay qualified students loans. Over 200 colleges and universities will match the Education Award with additional scholarships!
If you are over the age of  55 at the start of their service term, you may transfer your education award to your child, step-child, foster-child, grandchild, or step-grandchild.
All education award payments made on your behalf are considered by the IRS to be taxable income.
For more information about the Education Award, matching institutions and transferring awards, please visit the National Service website.