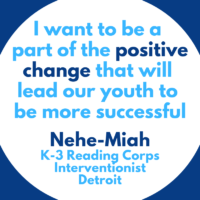 Be The Change
Be The Change
Nehe-Miah, K-3 Reading Corps Member
University Prep Schools, Detroit, MI
What does service mean to you? I define service as providing support or assistance where there may be gaps.
What inspired you to join AmeriCorps and serve students in your community? I was inspired by my mother's journey with AmeriCorps. She served while I was in high school, and I always look back on her experience and see the way that it shaped her career goals. Additionally, she was able to become involved with her community.
Why did you chose to serve with Reading Corps specifically? I chose Reading Corps specifically due to the low literacy rate in Detroit. I wanted to be a part of the positive change that will lead to our youth being more successful.
What experiences do you hope to have this service year? What do you hope to gain? I hope to have positive experiences at my site where I am able to support and watch students reaching their goals. I also hope to gain valuable experience in my career field.
What kind of impact do you hope your service will have on students and your
community? I hope my service will allow students to trust more adults in their life and increase their confidence with learning materials. I want to support students in empowering themselves while they take charge of their education.
Why should other people consider joining AmeriCorps? Other people should consider joining AmeriCorps to gain invaluable experience and to become closer to their community.