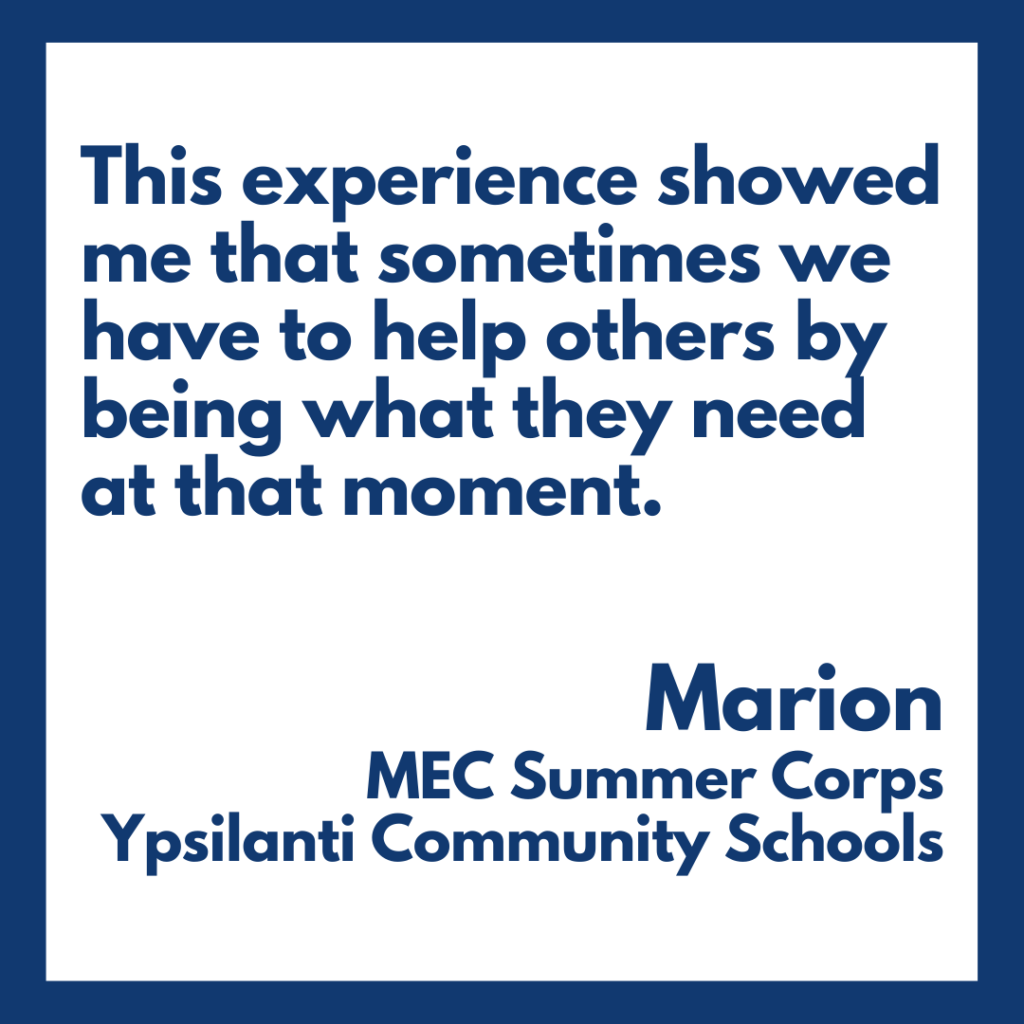 Reaching Out
Reaching Out
Marion Martyres, MEC Summer Corps
Ypsilanti Community Schools
Serving at Perry Early Learning Center has really been an experience where I learned more about myself and how important it is to be open to people. My service at Perry has been with a group of 5-7 year-olds, with a mix of students who had been online and others in person during the school year. The first week was really exciting for them, the first time being back in person, the first time meeting new friends, even the first time being at this school.
Most of the kids were able to jump right into the schedule and got along with the other students right away. Within the first few days, I noticed that one student was having a harder time than the others. He kept to himself during class and playtime, never talking to anyone and rarely asking for help when he needed it. Both the classroom teacher and I tried to get this student to open up a bit more to no avail, he seemed to want to be left alone. However, I noticed that he was always watching the other kids during playtime and seemed to be interested in joining but didn't want to ask them. I knew that it was going to be my job to help him engage.
Whenever the class was doing group activities, I immediately went to this student and tried to be outgoing and animated by asking him questions about himself and how he was feeling before leading him into joining a group of kids and finding things that this group had in common with this student. Although it took more than a week, I realized that he was starting to react to both me and his classmates more. He was engaging and enjoying playtime with his new friends, something that took a while to achieve.
This experience showed me that sometimes we have to help others by being what they need at that moment. This student needed an outgoing friend, someone to get him engaged with the rest of the class. I know that this experience will stick with me for the rest of my service time.