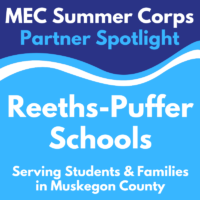 Partner Spotlight – Reeths-Puffer Schools
MEC Summer Corps – Partner Spotlight
Reeth-Puffer Schools – Muskegon County
What is the mission of your organization? The mission of Reeths-Puffer Schools is to maximize the potential of all students and prepare them to compete and contribute as caring, knowledgeable citizens in our rapidly changing world.
What are the primary service activities of your organization? We are a K-12 Public School District.
Where does your organization serve? Muskegon County, MI, serving the townships of Laketon, Dalton, Muskegon, Fruitland, and Cedar Creek.
What service activities and projects will MEC Summer Corps member(s) be supporting this summer? Summer Acceleration covid recovery program for Reeths-Puffer students, including community embedded learning in environmental stewardship and growing strong, supportive relationships. Members will accompany students at school as well as on field trips to the state park, Winter Sports Complex, area museums, farmers market and more!
How will partnering with MEC Summer Corps help your organization meet service goals? Our goal and our challenge is to engage our students in a community of learning through fun activities, collaborative spirit and positive relationships.  Our AmeriCorps members will play a valuable role in supporting our students through kind and caring actions, modeling collaboration, building positive relationships and supporting reading skill development.
What type of impact will MEC Summer Corps member(s) have on your service recipients and in your community? Over 200 children will benefit from their smiles, handshakes, hugs and high-fives!  Strategic assignment of members to children will help ensure all our children are able to fully engage in daily activities.  Students identified for supplemental reading support will benefit from direct reading intervention.
Members will also support our covid recovery food stabilizing program by assisting with food distribution to families in our community.
We are excited to see our children and AmeriCorps members engage together throughout our community.