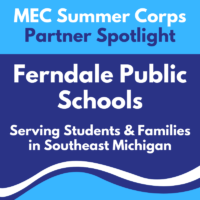 Partner Spotlight – Ferndale Public Schools
MEC Summer Corps – Partner Spotlight
Ferndale Public Schools – Oakland County
What is the mission of your organization? At FPS, we are a school family of continual learners. We support each and every student to develop their purpose, plan, and passion. We encourage and honor dialogue about the histories, cultures, and goals of our communities. We actively and intentionally facilitate equitable access and representation, meaningful participation, and high expectations for ALL.
How do you achieve your mission? In FPS, we achieve our mission by providing high quality instruction with continuing focus in the areas of diversity, equity and inclusion.
Where does your organization serve? Ferndale, Oak Park, Royal Oak Township, and Pleasant Ridge
Who does your organization serve? Prekindergarten through 12th grade students
What service activities and projects will MEC Summer Corps member be supporting this summer? This summer, the Ferndale MEC Summer Corps member will be supporting our summer school program at the elementary level.
How will partnering with MEC Summer Corps help your organization meet service goals? Our partnership with MEC Summer Corps will allow us to continue to provide individualized, high quality instruction to our students.
What type of impact will MEC Summer Corps member(s) have on your service recipients and in your community? The MEC Summer Corp member will directly impact our students' educational experiences as they will be working with students one-on-one and also in small groups to support literacy instruction under the guidance of our certified teaching staff.