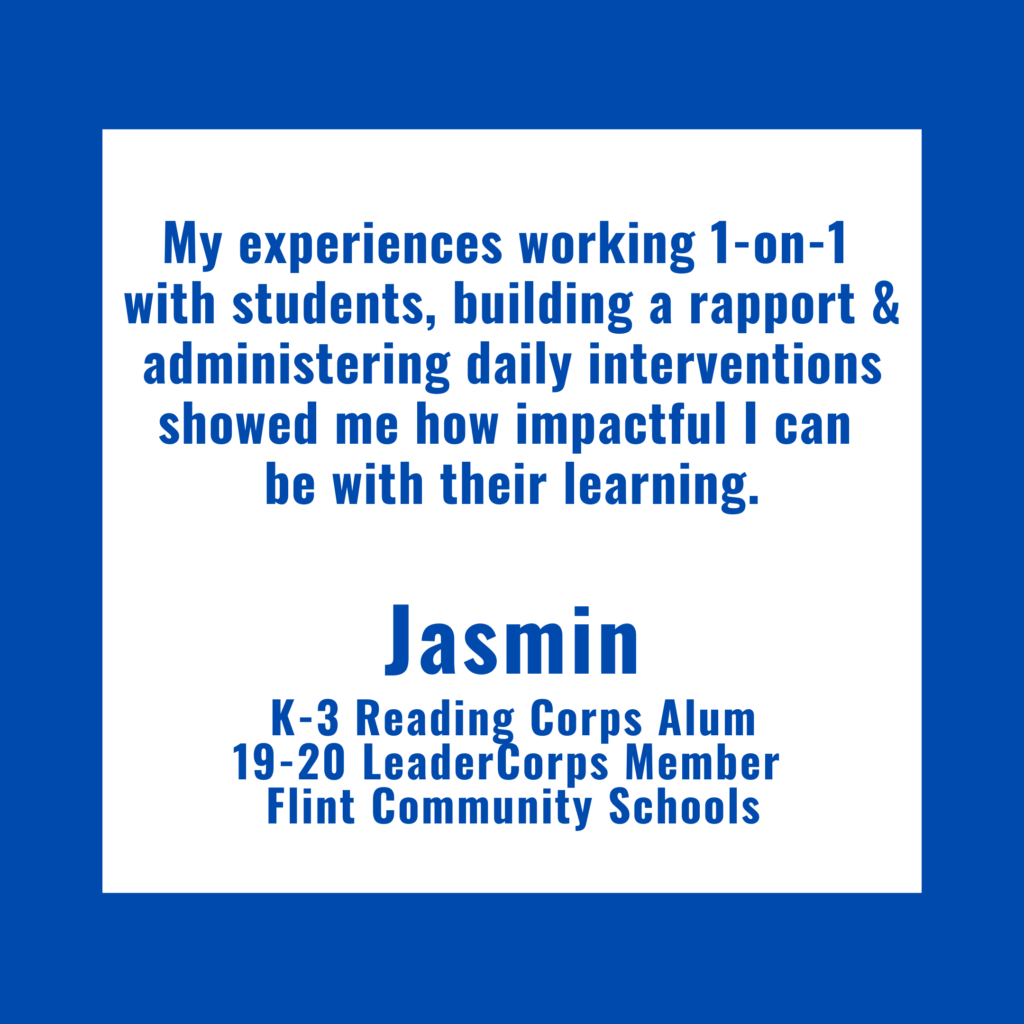 Bridging the Literacy Gap in Flint
Bridging the Literacy Gap in Flint
Interview with Jasmin
K-3 Reading Corps & LeaderCorps Alum
Jasmin is a proud Flint native who has a passion to uplift her community. After graduating from Flint Northwestern High school, she longed for a career that would allow her to help local families, so she decided to further her education at Mott Community College. There she received an Associates in Science majoring in Psychology. She also participated in various service-learning projects through the Honors program. One service project that stood out the most was her participation as a clown for the Mott Campus Clowns.  As a Mott Campus Clown, she served among her peers by providing laughs and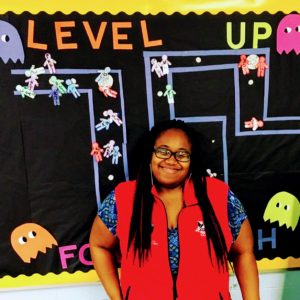 smiles for children all over the city. Jasmin then transferred to University of Michigan-Flint where she received a Bachelor's in Applied Psychology. There she continued to spread her love for serving her community and even helped lead different service projects for college students that resided on campus. A couple years after graduating from UM-Flint, Jasmin served as a K-3 Reading Corps Interventionist at Eisenhower Elementary School. She served at Eisenhower for 4 wonderful years.
What initially inspired you to serve with Michigan Education Corps? I was inspired to join MEC during a break I took after graduating college. While searching for local opportunities to partake in, an AmeriCorps program called Reading Corps caught my eye. I learned about AmeriCorps from meeting a few AmeriCorps NCCC members in college and I admired the service they provided for our city. With that in mind, I knew I had to find a way to be apart of this program. After doing more research I realized that this program allowed me to do two things I loved which were reading and being able to help children in my community. I applied right away without hesitation.
What skills and experiences did you take away from your service with MEC? One experience I took away from my service year was the ability to manage behaviors. There will be days where a student may not be having a great day and start to misbehave. By using the goal sheet provided by the program both the students and I were able to establish expectations right from the beginning. This is important because if you wait to long it would make things a lot harder and could also impede their time during the intervention.
You served as a K-3 Reading Corps member in Flint for 4 years! What did you find most impactful about those role? What did you enjoy the most? The most impactful thing about serving at the same school for all 4 years is seeing your students continue their growth in their reading. I had a student go from struggling with their reading in the first grade to surpassing their reading targets in the third grade. To see the way their eyes lit up when they read over 135 words in a minute almost brought tears to my eyes. They were so excited that they went and told their teacher. I have had many impactful moments but that one made it all worth it.
You served as MEC's LeaderCorps member (2019-2020) and as a member of the Flint Accelerator Leadership Council. What types of activities did you complete in these roles? How did these roles help deepen your connection to service in your community and across the state? My time as a LeaderCorps member was exciting and different. Exciting because I had a chance to represent the members of MEC and help provide opportunities for them to collaborate with AmeriCorps members across the state. Different because I had to learn how to adapt in order to complete my tasks while schools were closed due to COVID. Despite that, I was able to help members enhance their service year through different programs that I helped to facilitate. A few programs were:  AmeriCorps Virtual Self-Care Sessions, Lunchtime stories/activities and the AmeriCorps week themed days. Just like LeaderCorps, the Flint Accelerator Leadership Council allowed me to help enhance members service experiences while collaborating with different AmeriCorps program members in the Flint/Tri-Cities area. I got a chance to help facilitate monthly accelerator meetings for Flint members and helped lead different service projects. Regardless of COVID sort of putting a halt on things, my experiences in both gave me a chance to network with members both locally and statewide.
What are your goals for the future? How will your previous service experiences help you reach your goals? My future goal is to become a school counselor for elementary schools right here in Flint, MI. I knew I wanted to go into counseling I just did not know which area of counseling I wanted to pursue. It was during my years serving in Reading Corps where I finally found my calling. Thanks to this program I have firsthand knowledge on what it's like working with elementary aged students. My experiences working one on one with students, building a rapport with each of them and administering daily interventions showed how impactful I can be with their learning. So, I plan on applying for graduate school by April of this year. I can't wait to see what this path has in stored for me.
What is one thing that you want people to know about serving with Michigan Education Corps? You are never alone. There are resources you can rely on for help like the end of the year binder and intervention training videos. Another big resource is your MEC peers. I know for me it was extremely helpful to get advice and tips from other members. Take advantage of those resources and do not be afraid to reach out for help.
Would you recommend MEC's Service Experience to others? If yes, why? Yes, I would recommend serving for MEC because you are providing a service that is very much needed in our current school system. Not only that you will have an opportunity to impact so many lives. Your service will help bridge a huge literacy gap among students and their families. To be able to read is so vital and with your help you can help make sure those students secure a better future.
Is there anything else you want to share about your service experience? My only piece of advice I will give is to embrace your service experience. Cherish those small moments and make memories that will last you a lifetime. You will come across so many different people from different backgrounds serving in different programs. Try to network with as many of them as you can because it could lead to huge opportunities. Lastly, do not forget to take care of yourself. Find ways to keep yourself centered whether it's mindful coloring or laughing at videos. Find what works for you.  All in all, I am so blessed to have served for MEC and I wouldn't trade my experience for anything in the world.