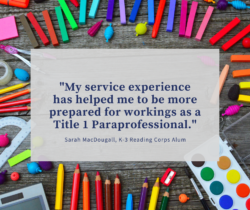 Finding Her Dream Job by way of AmeriCorps Service: Interview with Sarah MacDougall, K-3 Reading Corps Alum
Finding Her Dream Job by way of AmeriCorps Service
Interview with Sarah MacDougall, K-3 Reading Corps Alum
Sarah is a mother of 3 amazing kids, 10, 7, and 3 years old. She and her husband will celebrate their 11th anniversary in January. Their boys are active in football and baseball in St. Louis, and the oldest just joined a travel baseball team with the Mid Michigan Beavers. Because their kids are so involved in sports, Sarah and her husband serve on the youth football board and help coach the boys' sports teams. When they're not busy running to practices and games in the fall and spring, they enjoy spending time as a family and having movie nights on the weekends. Sarah served as a K-3 Reading Corps Interventionist for 2 years before accepting employment with St Louis Schools.
Q: As a parent, what inspired you to serve with Michigan Education Corps?
A: I had always wanted to work in the schools. I love being around kids and working with them.  I noticed the posting on the school website and was really interested in it, but I wasn't sure how I'd do in the role. I'd never done anything like it. But I knew that the scheduling was perfect. My kids were in the same district and I would have the same schedule as them. I was on the fence about applying, and then one of my sons' previous teachers reached out to me to tell me about the opportunity. That was the extra push I needed to apply for the position.
Q: What skills and experiences did you take away from your service with MEC?
A: I learned so much as a K-3 Reading Corps Interventionist. Learning the different interventions and watching the students grow each week was amazing. I loved helping the students who needed the extra help and giving them their own one on one time with an adult for twenty minutes a day. I gained relationships with many of the students in the school, even if they were not "my" students. The kids would come up to me and give me hugs or high fives and tell me stories from their day or weekend. I also gained many friendships with the staff at my school as we worked together to help the students grow throughout the year. I also learned how much of a need there is in schools to help kids continue to grow in their reading skills. My favorite quote I learned in training was "We learn to read and then we read to learn". These kids can't grow in their education if they cannot read the work in front of them.
Q: Last year you served with Michigan Education Corps in St Louis. You're now employed with the St Louis School District. How did your service with MEC set you up for success in your new role?
A: Being able to serve in the school for the last two years helped me gain a professional relationship with the staff and become part of an amazing team of educators! I also learned similar interventions that the Title staff use with their students. I am now a Title 1 paraprofessional in the school. When this position became available, the principal reached out to me to let me know. Had I not served in the school, l I might not have had the relationships and experience that ultimately got me the job!
Q: What are your career goals and how will your service experience help you reach your goals?
A: My service experience has helped me to be more prepared for this position. We do similar interventions and testing with the students to see their growth. Without having done those things with Reading Corps, I don't think I would have felt so confident starting out. My career goal has always been to work in the school and I am currently doing my dream job!
Q: What is one thing that you want people to know about serving with Michigan Education Corps?
A: It is a great program and a great opportunity! I am so glad that I took the leap of faith and applied for the position. I gained so much knowledge about our schools and how much they do for our kids to help them have the brightest future possible! Each kid that you work with, and even the ones you don't work with will gain a special spot in your heart as you learn more about each of them.
Q: Is there anything else you want to share about your service experience?
A: If you are on the fence about serving, say yes! You will not regret the life long experience you will gain with the small amount of time with your students. It's an amazing experience to watch each child grow and learn. You will be a part of that growth and know you helped them succeed. Seeing the excitement on their faces when they get to see how much progress they have made is truly special.
---
Apply to serve with Michigan Education Corps' K-3 Reading Corps program.