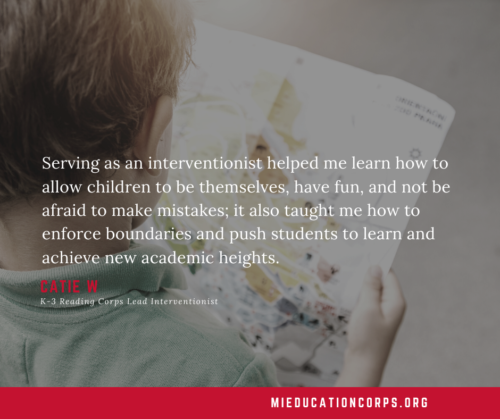 An Introduction to MEC's LeaderCorps Member: Catie Wissman
An Introduction to MEC's LeaderCorps Member
Catie Wissman
Michigan Education Corps is excited to announce Catie Wissman as our program LeaderCorps representative for the 2020-2021 program year. In her application, Catie shared that her goal as MEC's LeaderCorps member is to assist others throughout their service term, spread the word of how amazing MEC truly is, and strive to make members feel like they truly belong and are heard in this program. We look forward to an exciting and productive year ahead!
Catie is a 2nd year MEC member with a true passion for helping others. She entered MEC in the 2019-2020 school year after completing her Associates Degree at Grand Rapids Community College. In her free time, she enjoys looking for fossils and going to thrift stores. Catie aspires to one day be a teacher and eventually open up a Nonprofit with the goal of providing adults with special needs adequate care and development opportunities.
Q: What initially inspired you to serve with K-3 Reading Corps? Why did you choose to return to serve this school year?
A: Initially, I just found the position posted on Indeed.com. I always spend my summers at a summer camp for adults with special needs and was searching for a job to do during the school year. With MEC, however, I found much more. I felt like MEC and AmeriCorps as a whole was a community that I was incredibly lucky and proud to be a part of, and I decided that I wanted to be in this community for as long as possible.
Q: As MEC's LeaderCorps member, what are your goals and initial plans for this year?
A: As this year's LeaderCorps member, I plan to create a strong connection between members. I noticed in my first year that, serving at a school by myself, I rarely got the chance to speak with other members. So this year, I aim to always be there to ask questions, help problem solve, and even just share good/funny stories. It is extremely important to me to hear and learn from other members because I know they have strengths that are worth sharing and utilizing. I also really enjoy the student rapport aspect of MEC and am eager to share my tips and tricks for establishing strong relationships with students as well as learning from other members on how to improve myself.
Q: How has your service impacted you? What skills have you gained?
A: MEC has allowed me to identify my future goals and attain the means to actually achieve them. My service has taught me that I have a passion for working with children and also has allowed me to foster connections with people in my desired field. Serving as an interventionist helped me learn how to allow children to be themselves, have fun, and not be afraid to make mistakes; it also taught me how to enforce boundaries and push students to learn and achieve new academic heights. Furthermore, the Segal Education Award has given me the chance to attain my college degree without student debt.
Q: What do you plan do to after your service term?
A: After this service term, I am looking forward to continuing my journey of earning my Bachelor's Degree debt free. Once I am able to complete that, I aspire to be a Special Ed Teacher and create a non-profit organization aimed at creating sufficient group homes for adults with special needs where they will have the opportunity to both grow and learn while being in a safe space.
Q: Do you have a success story from this school year you'd like to share?
A: So far this school year, I have had the pleasure of seeing how providing a student with a safe space and engaging a student with topics they are passionate about can really break them out of their shell. I had a student that would barely talk to me enough to complete our interventions at the beginning of the year. However, each day I was able to get a little bit of information about him and what he likes. I found out he loved science, so I started pulling out passages about animals, plants, and space. After reading a story about birds, he came back the next day with a ton of facts about Kiwi birds to tell me. Little by little, he opened up and was able to be himself. Now we read science books every day and he maybe even talks a little too much!
Q: What is one thing that you want people to know about being a K-3 Reading Corps Interventionist that they might not know?
A: I want people to know that working with kids is one of the most rewarding and interesting jobs. Not only do you get to learn each student and their individual personalities, you get to come to school every day not knowing what to expect. From watching the students parade down the hallways in their costumes on Halloween to having a list every day of hilarious things students said to you, there is truly never a dull moment.
Q: Is there anything else you want to share about your service experience?
A: MEC has also been a source of personal development for me. I have had the opportunity to attend workshops, hear speakers, and watch ted talks that have enlightened me and allowed me to grow into a more aware and socially responsible person.