Member Spotlights – November
We are excited to celebrate our members, their service and what has inspired them to serve! Every week, we spotlight members from across the state on our Facebook page and twice a month we will compile these spotlights to share on our blog!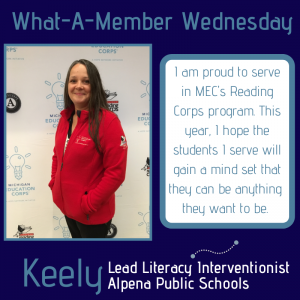 Keely is in her second year with Michigan Education Corps serving Alpena students. She was inspired to serve after working in a high school and realizing how many teens struggled with reading. She hopes that through her service, students will discover that they can be anything they want to be.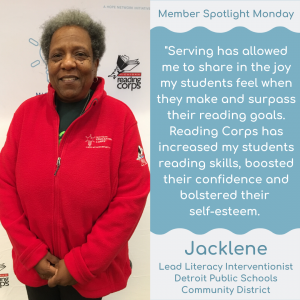 Similar to Keely, Jacklene was inspired to serve after tutoring adult learners who struggled with reading. She sees her service in K-3 Reading Corps as an opportunity to make sure young students can catch up and be successful in their education. Jacklene is in her second service term at Munger Elementary in Detroit.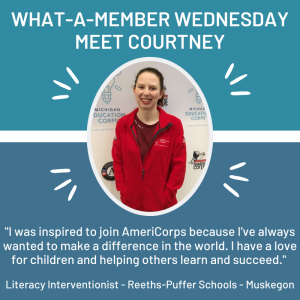 Courtney is in her first service term at Central Elementary in Reeths-Puffer. Through her service, she hopes that she will discover a fulfilling career path while helping students discover a love of reading and learning.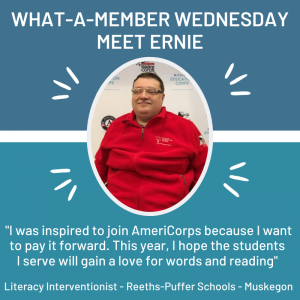 Ernie serves alongside Courtney at Central Elementary. When he was a child, he attended speech therapy classes, so he knows what its like to need some extra help and support. Now, he wants to pay it forward to students in his community.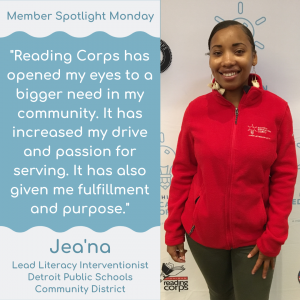 While serving her second term at Munger, Jea'na has seen students increase their confidence while becoming better readers. Some have even begun to read in their own time! As she continues to serve, she hopes that she is able to reach more students, build relationships with them and help them discover that reading is a way to explore their interests.