Member Spotlights – October
October Member Spotlights
We are excited to celebrate our members, their service and what has inspired them to serve! Every week, we spotlight members from across the state on our Facebook page and twice a month we will compile these spotlights to share on our blog!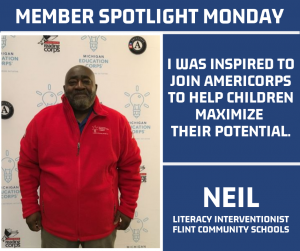 As a first year AmeriCorps member, Neil is serving in his hometown of Flint, Michigan. In addition to helping children reach their potential and become successful readers, Neil is also studying to obtain is law degree.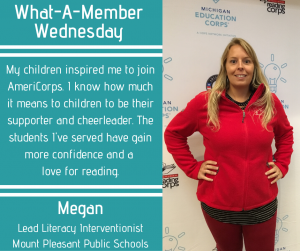 Megan serves at Fancher Elementary in Mount Pleasant because she saw how many children in her community struggled to read. She hopes that each child she serves develops a love for reading.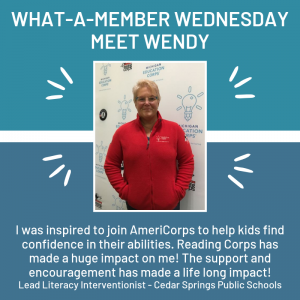 Wendy is serving her second service term with PreK Reading Corps. Her love of encouraging children to learn and helping them to find confidence in their abilities was her inspiration for serving with Michigan Education Corps.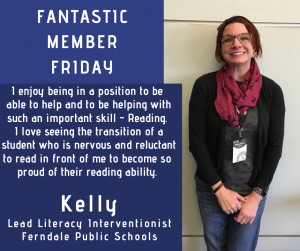 Since 2017, Kelly has served with Reading Corps at Ferndale Lower Elementary. After the death of a loved one, Kelly was driven to be of service to her community. She has found her service to be fulfilling because she is able to help kids build their confidence and improve their reading skills.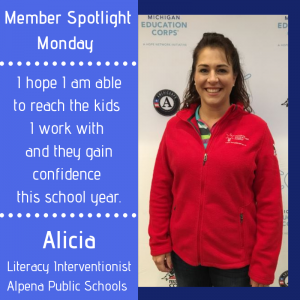 Alicia serves in her hometown of Alpena, Michigan. While working as a substitute teacher last year, she saw first hand the need for reading intervention and decided to serve with Michigan Education Corps. Not only is she serving to help kids learn to read, but she is also discovering what career path she wants to take.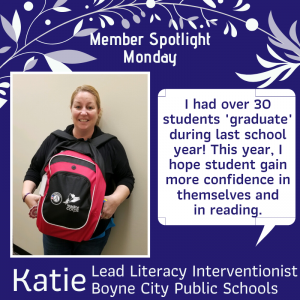 Katie is in her third year of service with AmeriCorps. When the program she served with in her first service term ended, she decided to join Michigan Education Corps. She enjoys serving because its a great fit for her and her family. Through her service, not only have kids gained confidence, but so has she!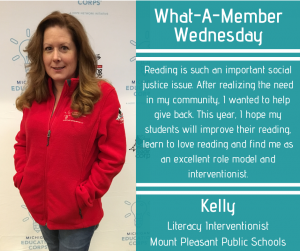 Kelly serves at Fancher Elementary, the same school she attended as a child. After a decade as a college professor, she noticed that students were more often struggling with reading and writing skills. This year, as she returns to her hometown, Kelly decided to give back to her community and help kids develop a love for reading.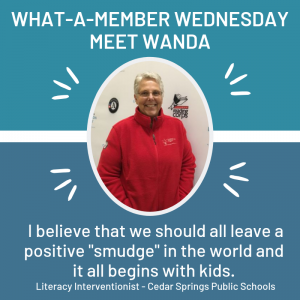 Wanda's career in social work led her to believe that we should all be community-focused and make a positive impact on the world. Through her service, she hopes that her students will discover that reading can be fun and satisfying.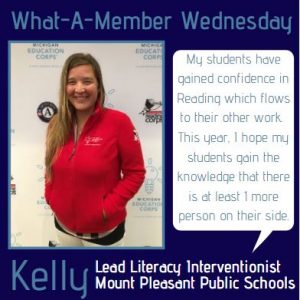 Before joining AmeriCorps, Kelly has spent most of her career working in finance. She decided she was interested in working with kids, but wanted to try it out before jumping in. Kelly found an opportunity to try it out with Reading Corps, first with PreK Reading Corps in Minnesota, and now with K-3 Reading Corps in Michigan. In giving children a safe place to be themselves, she sees firsthand the progress her students are making.