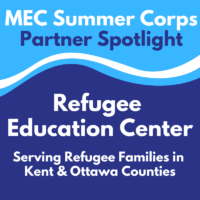 Partner Spotlight – Refugee Education Center
MEC Summer Corps Partner Spotlight
Refugee Education Center
Serving Kent & Ottawa Counties
What is the mission of the Refugee Education Center? We support refugees in their journey to become fully participating members of the West Michigan community. We envision a thriving, multicultural West Michigan community where all have an opportunity to pursue a better future!
How do you achieve your mission? What are the primary service activities of your organization? We are educators at the core, but we know that life is complex, and every story unique. That's why we address the needs of not only the students we serve, but the whole family. Providing support in their journey to become fully participating members of the West Michigan community. We achieve our goals of educational support, family stability, and cultural belonging through our 6 main programs: Project Faulu, B.R.I.D.G.E.S, Graduate & Grow, Refugee Navigators, and Hands Connected.
Where does Refugee Education Center serve? We serve Kent & Ottawa county refugee families, so about 650 individuals.
Who does your organization primarily serve? Our program serves refugee families and their children, from birth to graduation and beyond. We follow families from when they first arrive through however long they may need our services.
What service projects will MEC Summer Corps members be supporting this summer? They are supporting our B.R.I.D.G.E.S. program: Building Refugee Independence and Delivering Guidance for Educational Success. This 7-week summer program is designed for newcomer students who are learning English for the first time and acclimating to the American school culture and systems.
Andrew, MEC Summer Corps Member, will be a lead teacher for the program, and Stephen will be an administrative assistant and assessment coordinator.
How will partnering with MEC Summer Corps help your organization meet service goals? Our summer BRIDGES program relies heavily on committed and consistent volunteers and interns, so Andrew and Stephen provide great stability and quality services through their participation in our program this summer.
What type of impact will MEC Summer Corps members have on your service recipients and in your community? Andrew and Stephen will be greatly contributing to our mission, giving students the tools and specific support they need to feel successful.