Above & Beyond – The Call of Service
Interview with Shari, Internal Coach
K-3 Reading Corps Alum – Flint Community Schools
Shari is 78 years old and has been married 61 years and has 3 married children, 5 grandchildren and 2 beautiful great granddaughters. Shari has always had a very active life. Shari was a professional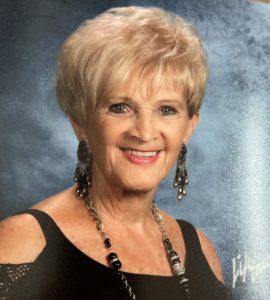 entertainer, beautician, dance teacher as well as 42 years in elementary education plus 5 years with AmeriCorps. Shari has been part of American Business Women's Association for 22 years and was elected Woman-of-the-Year 3 times. Shari started the Windmill Woman's Circle 15 years ago to promote women of all backgrounds coming together to help our community through outreach programs.
You served as a K-3 Reading Corps member for 4 years and you're now employed by Crim Fitness Foundation as an Internal Coach supporting Flint's Reading Corps members. How did your service with MEC set you up for success in your new role? When my job with Flint Community Schools was dissolved, I wasn't ready to retire, and someone told me about AmeriCorps, I got online and filled out an application and began serving at the school I previously worked at for 13 years. I knew the families, staff and scholars and I could see a need to serve. I was fortunate to start with 1st grade scholars my first year and my second year another tutor came, so I had the opportunity to followed my scholars to second and third grades. I was amazed at the progress and growth of my scholars and the confidence they gained with our 20 minute sessions. I served as a Reading Interventionist for 4 years (the term limit) and was thrilled to be asked to serve as an Internal Coach these past 2 years. Serving in this role, gave scholars the opportunity to be successful in school and help them become Life Long Learners.  I loved the program so much that I convinced my oldest granddaughter to serve a year as a tutor and she loved the program. My people skills have given me the ability to work as team player whatever the situation. My goal has always been trying to make a difference in whatever I do.
How did your experience serving on Flint National Accelerator's Leadership Council help deepen your connection service in your community? How has your leadership in the accelerator supported your work as an Internal Coach? Being part of the Flint National Accelerator Leadership Council gave me opportunities to serve with other organizations that had the same goals in mind "Make A  Difference" and to create unity with a variety of programs. It also gave me more confidence by being a mentor. While serving on the council the past 4 years, I had the opportunity to meet both Past Presidents of AmeriCorps.
What are your goals for this school year and how will your previous service experience help you reach your goals? This year has been challenging because things are done virtually but, it is still rewarding even if it is overwhelming. The obstacles we face this year will be worth the investment in the scholar's educational process and successes.
Would you recommend MEC's Service Experience to others? I would definitely encourage people of all ages to become an important person in the life of children through AmeriCorps. The rewards are the smiles on the faces of the scholars when they realize they can READ. You will find that you will learn as much from them as they learn from you.