Building Connections & Confidence through Math Corps
Building Connections & Confidence through Math Corps
Interview with Diana Knuppenburg
math corps member
Diana is a 2nd year MEC member with an empathetic soul and desire to help others.  She entered MEC in January of the 2019-2020 school year.  In March of 2020, schools were abruptly shut down due to COVID-19.  Despite the unconventional end to her initial service term, Diana returned for the 2020-2021 school year.  Diana went to school to study psychology.  She completed her bachelors at Ferris State University and her Masters in Counseling Psychology at Western Michigan University.  She started her career in the field of psychology, prior to being a stay-at-home mom.  During 2019, Diana began teaching Lifespan Human Development and Introduction to Psychology at the newly accredited Ross College.  In her free time, Diana enjoys spending time with her family, watching University of Michigan football (though this year has been less than satisfying), leading a support group at her church, scrapbooking, and catching up on NCIS.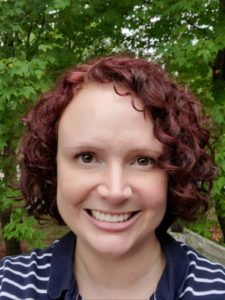 Q: What led you to serve with MEC Math Corps, and why have you chosen to continue serving?
I began serving with MEC Math Corps because I was feeling the burnout of the mental health field.  I was wondering where I should be looking to redirect my career goals.  I had attained the adjunct faculty position at Ross College in the fall of 2019 and when I found the posting for MEC, I thought it was confirmation to continue the path of educating.  The interventionist hours also coincide with the time my children are in school, which is difficult to find in other positions.  My greatest calling is helping others, whether that be with their education or their mental health.
Q: Do you really have to be a "math person" to be an MEC Math Corps Interventionist? How has training and coaching helped to support you?
No, you do not have to be a "math person" to be an MEC Math Corps Interventionist.  Although I enjoy math, I did not enjoy learning my multiplication tables or "multiplication facts" as they now call them.  Helping the students become more fluent in this area has increased my fluency and confidence as well.  Training has given me the tools I need to explain the concepts in a variety of ways for the students.  Coaching has assisted me in seeing things from a different perspective and reminding me on frustrating days that I make a difference.
Q: What does your typical day look like? What is the best part of your day?
I see 4th and 5th grade students in groups of 2-3 for about 20-30 minutes at a time. I transitioned to remote learning with students from mid November until the beginning of December. I currently serve 24 students in-person and 2 students remotely. On Mondays, Wednesdays, and Fridays I have seven groups of students.  Tuesdays and Thursdays, I see five groups.  In between groups, I sanitize desks, dry erase boards, manipulatives, etc.  At the end of the day, I record attendance and how much time I spent with the students.  I also prepare lessons for the next day, which sometimes includes printing worksheets.  The best part of my day is seeing students understand a concept they had been struggling with or hearing about their success in math class.
Q: What strategies do you use to engage students and get them excited about math?
For many students, math is not exciting. On the days when we do not practice our fact fluency on the Math App, we end our session playing a card game called "Close Call," in which the students get 5 cards and have to make multiplication facts out of 4 of them, then add them together to get as close to 100 as possible (without going over).  I have a leader board in my classroom that I keep tally of their wins under their initials.  Then I update which student is winning for both 4th and 5th grade in the middle.  The students really get into it!  One group has even deemed on desk as "lucky" for the person seated there during the game.
Q: What is one thing that you want people to know about being a Math Corps Interventionist that they might not know?
Most days do not feel like "work."  While I am serving daily during the school week, it does not feel difficult or unsatisfying.  I have had positions where I dreaded going in for my shift.  I do not feel that as an interventionist.  I like showing up!
Q: Has your service terms impacted you in unexpected ways? If yes, how?
I did not anticipate schools being closed because of COVID-19.  Switching to making face masks for direct service workers part way through my first term was definitely unexpected.  It is great getting to know the students personally.  I was sad when the schools closed in March and I did not get to say goodbye to the 5th graders that were moving on to the middle school.  I never would have thought that from January to March I would have felt that much of a connection.