K-3 Reading Corps Making an Impact at Willow Elementary in Lansing Public School
Literacy Initiative Takes Center Stage at Willow Elementary
Article from The Bright Side, Lansing School District's Newsletter
Reading proficiency scores at Willow Elementary are up, in fact, they're WAY up, so much so that even the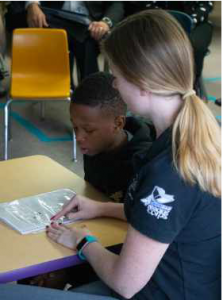 Governor's office has taken notice.
The reason: the hard work put in by teachers, students and staff coupled with the help and resources provided by the MEC K-3 Reading Corps – a literacy program that has been in place at Willow Elementary since 2015.
It's a partnership that's been paying dividends for Willow Elementary students  ever since. Since 2015, the MEC Reading Corps program has served 128 Willow students, with all experiencing double digit growth in their reading proficiency scores.
That amazing success was recently highlighted during a MEC K-3 Reading Corps site visit attended by members of the Lansing School District executive team as well as staff from Senator Hertel's office and Representative Sarah Anthony's office, as well as staff from the Michigan Department of Education and the Governor's office.
"Our partnership with the MEC K-3 Reading Corps has done wonders for our students," said Steven Lonzo, principal of Willow Elementary. "We only have these students here at Willow for three short, precious years. It's important we make the most of that time and the MEC K-3 Reading Corps is making sure that's the case."
The program is simple. Students in need of additional help with their reading are provided with daily, one-on-one, 20 minute support sessions from trained MEC Reading Corps interventionist. With that time, the interventionists provide evidence-based instruction and targeted reading practice to students based on their specific needs and the difficulties they are having.
"The students we serve here at Willow are the future. And through this partnership with MEC K-3 Reading Corps, we're working to make sure each and every one of them has the literacy skills they need to fulfill their dreams."