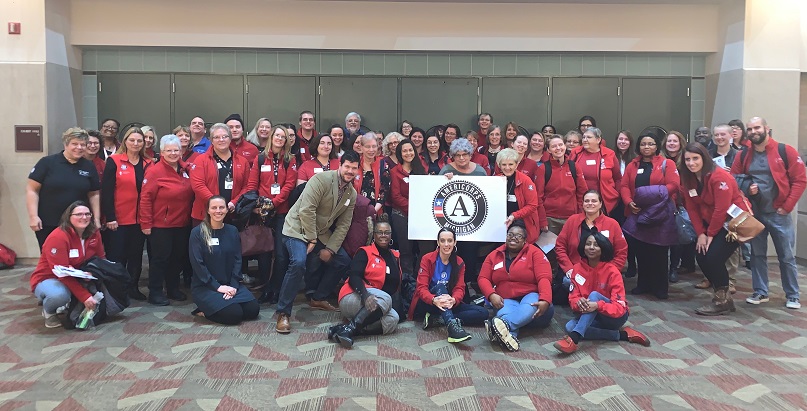 November Newsletter
Michigan Education Corps Newsletter 

Pride in student's perseverance and growth

"I was brought to tears today during an intervention with one of my students. The tears were of pride. This student had been blending words and was becoming defeated because he couldn't get through the page. He became totally discouraged and just clammed up. He didn't even want to try. I cheered him on and said that he could do it! I told him I had faith in him. He made the choice to start the blending words sheet over and with every word I could see his confidence grow! Even in the way he was sitting, with every word he straightened up and was emboldened to read the next word. He pressed on and finished the sheet with no errors! He
did it! When I was congratulating him on a job well done, my eyes welled with tears. I was so proud, not only because he read the words, but because of the perseverance he showed! I am so thankful that Reading Corps allows me to be a part of moments like these in the lives of my students!" – Laura Nicholls, K-3 Reading Corps Interventionist at Pellston Elementary

We've heard from many interventionists who have been celebrating the small yet significant gains that students make every day. Thank you all for your consistency and diligence in ensuring every Michigan child has an opportunity to succeed! 

Do you have a great story to share? Make sure to submit it through OnCorps, and we may feature your story in upcoming newsletters, social media or our blog! You can find prompts in your program manual appendix to help you get started.

Michigan's AmeriCorps Member Celebration





Thank you to everyone who attended Michigan's AmeriCorps Member Celebration despite the bad weather! Those who were able to attend were among 650 members from 29 AmeriCorps programs across Michigan. As you continue through your service year, remember keynote speaker Luke Wyckoff's message to be all in in what you do and the passion that you bring to your service site, your personal goals, wellness and more. 

 

Often, as we become more accustomed to our surroundings and routine, we begin to run on autopilot and our awareness of our interactions with and reactions to our environment decreases. Practicing mindfulness can help bring your attention back to the present and help decrease stress. "When we practice mindfulness, we're practicing the art of creating space for ourselves – space to think, space to breathe, space between ourselves and our reactions." To begin practicing mindfulness, take 5-10 minutes each day to bring attention to the present moment. These instructions come from Mindful.Check out their website for more helpful tips!



Check out the 

MEC Blog

 for an archive of newsletters, member spotlights and interviews.