Member Spotlights – November part 2
We are excited to celebrate our members, their service and what has inspired them to serve! Every week, we spotlight members from across the state on our Facebook page and twice a month we will compile these spotlights to share on our blog!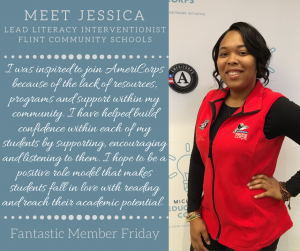 Jessica is serving her second term with K-3 Reading Corps in Flint. Because of her service, she believes she has become a better leader in her community, and is more aware of the problems that her community faces. As an interventionist, she hopes her students  will learn better reading strategies so that they can gain a love for reading.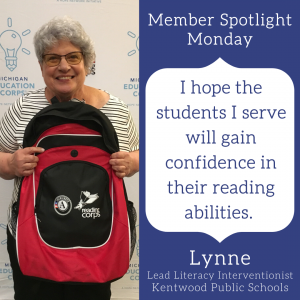 Through her service, Lynne hopes to regain a sense of purpose while helping her students gain confidence in their reading ability. Lynne is in her third year of service in Kentwood Public Schools.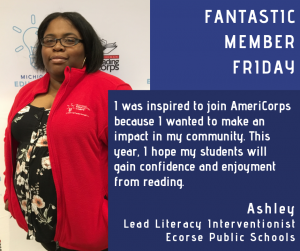 Ashley is serving her second service term in Ecorse, Michigan. This year, she hopes to gain knowledge, leadership skills and be more involved at her service site, Ralph Bunche Elementary.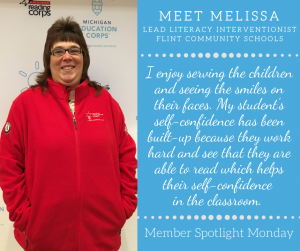 Melissa is serving her fourth service term in Flint, Michigan. She was inspired by other members' experience with Reading Corps and wants to help children in her community. Melissa enjoys seeing her students gain the skills and confidence they need to be successful in the classroom.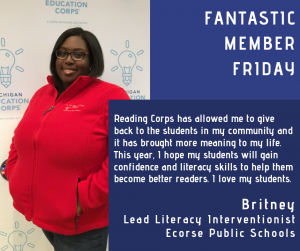 Britney can't make it any more clear. She serves because she loves kids. Not only does she help them learn to read, she's also there to support them and be a positive influence in each of their lives.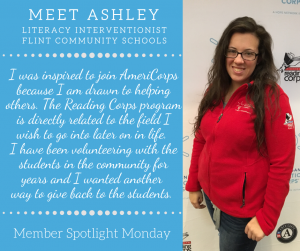 Ashley has been volunteering with elementary students for years. This year, she decided to make it a full-time commitment with K-3 Reading Corps. She wants to gain confidence in her ability to help children while encouraging them to develop a love for reading.