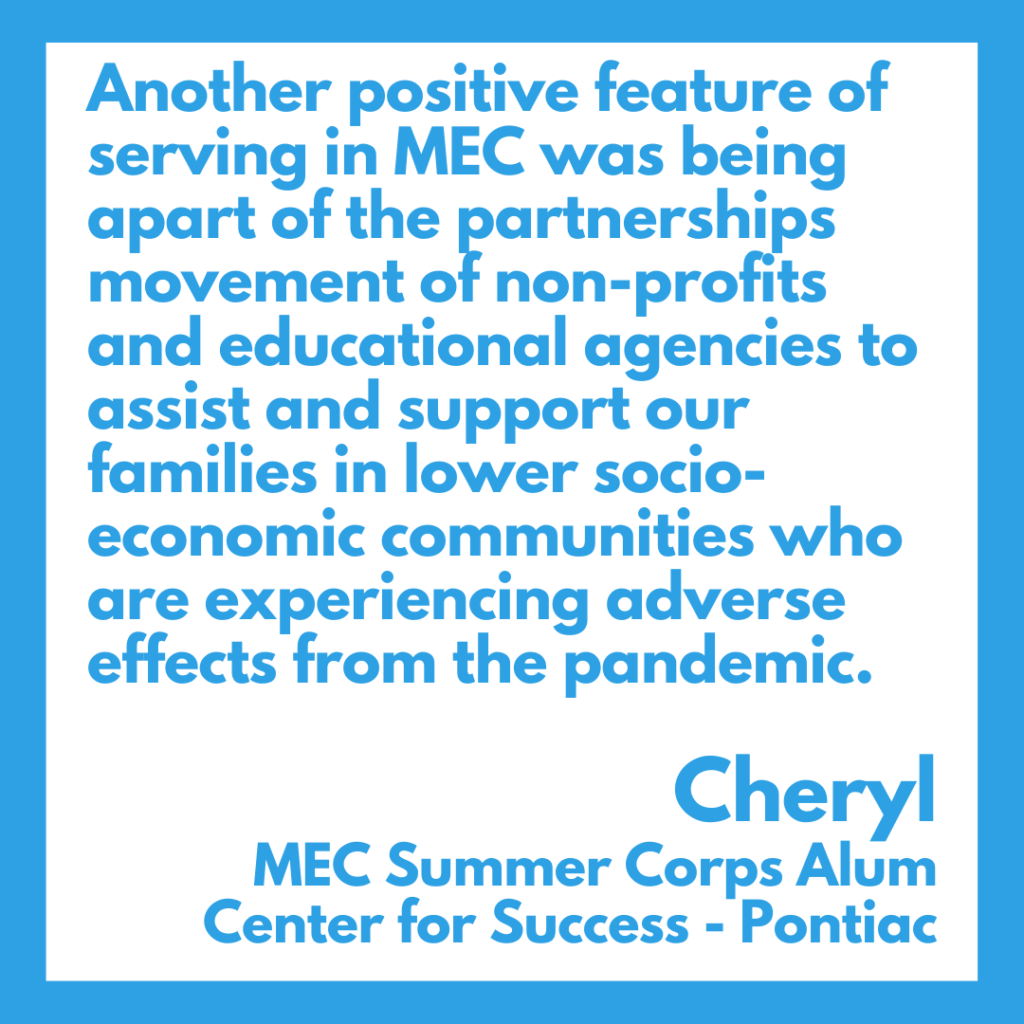 Partnerships are Essential to a Better Society
Partnerships are Essential to a Better Society
Cheryl, MEC Summer Corps Alum
Center for Success, Pontiac, MI
It was truly an experience while serving at the Center for Success in Pontiac, MI. I have learned and benefited from this tenure over the last past months from June through August in many ways as I will expand upon in my following reflections. The great need for high quality Social Value and Literacy programs for our youth are definitely imperative during this Pandemic infused environment which have negatively affected our families and educational agencies and institutions which serve them. Therefore, there is a great need for the availability of effective afterschool and summer camp programming for our communities especially in the lower socio-economic neighborhoods now and into the future due to the major shifts and trends of families and their roles in society.
It was a great experience while serving at the Center for Success Pontiac because this organization represents a model and movement of changing lives by training our youths to become good readers as well as leaders by instilling the proper set of social values and reading skills for them to function better as productive citizens in our society. I found that the Center for Success Summer Camp provided an opportunity for conversation and connection with our youth which also created a great and positive impact on the Pontiac community in which it serves.
Another positive feature of serving in this MEC position was actually being apart of the partnerships movement of non-profits and educational agencies to assist and support our families in lower socio-economic communities who are experiencing adverse effects from the pandemic environments which are simply worse due to their lack of economic and educational access in our society.
My leadership role as a MEC member has also allowed me to plan and organize a quality Summer Camp program for elementary age youths which incorporated building their reading levels in the specific areas of phonics and reading fluency. It also provided an opportunity to engage and facilitate sport activities which taught social values such as respect, kindness and empathy along with courtesy and perseverance. Also, I introduced themed Read Aloud books daily through the six week camp to focus on the social values previously mentioned. Also, the implementation of the First Tee Drive program which concentrated on these social values while introducing our youth to the game of golf was beneficial as well. Finally, I had created a 2021 Summer Olympic event with the collaboration of Sport Port another partner and I lead it cooperatively to service the social needs of our youth.
In summary, in doing good work through service with the Michigan Education Corp (MEC) was a unique experience as it provided me the opportunity to utilize the best practices and skills acquired to have impact upon our youths in society. The MEC partnering with the Center for Success became a catalyst for organizations to network and form the village concept. In short, it is quite appropriate to require those persons with gifts, time and talents to share them with those of greater need. In other words, working together as a TEAM in our communities is the key to a successful and better society!