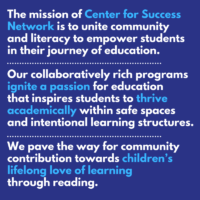 Center for Success – Partner Spotlight
MEC Summer Corps – Partner Spotlight
Center for Success Network
Serving Students in Detroit & Pontiac
What is the mission of your organization? The mission of Center for Success Network is to unite community and literacy to empower students in their journey of education. Our collaboratively rich programs ignite a passion for education that inspires students to thrive academically within safe spaces and intentional learning structures. We pave the way for community contribution towards children's lifelong love of learning through reading.
How do you achieve your mission? What are the primary service activities of Center for Success? Center for Success provides structured, literacy focused out-of-school learning programs for elementary-aged students through connection to a responsive community of staff, mentors, and enrichment partners. A supportive, literacy-rich environment identifies and celebrates strengths and creates opportunities for students to thrive academically. Partner enrichment programs integrate into sessions to provide lessons on cooking, robotics and engineering, architecture, music, and a variety of other youth identified topics. Through interventions specific to each learner, we support academic and literacy needs through relationships, exposure and goal setting.
Who do you serve? Elementary Students striving to read at grade level proficiency,
Where do you serve? Detroit and Pontiac
What service activities and projects will MEC Summer Corps members be supporting this summer? AmeriCorps members will deliver in person support for programs, including meal distribution, creating and delivering literacy rich lessons and activities to small groups, working one on one to mentor students in literacy, and also distributing learning kits. Most of the CFS staff are currently virtual and will remain virtual to fully support students who are not interested or able to attend in person. The AmeriCorps members will provide crucial support to increase capacity of students reached, as well as provide critical, deeper support for families and students during the pandemic. Finally, our AmeriCorps members will assist with compiling and distributing learning kits and materials for virtual students.