Member Spotlights – December
We are excited to celebrate our members, their service and what has inspired them to serve! Every week, we spotlight members from across the state on our Facebook page and twice a month we will compile these spotlights to share on our blog!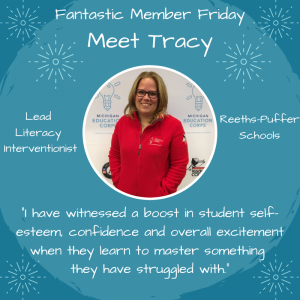 Tracy is serving her second year as a K-3 Reading Corps Interventionist in the Reeths Puffer District. Her daughter's kindergarten teacher told her about the program while volunteering in the building. Because of her service, she has become more involved in the school community and has been able to build a stronger bond with the teachers. She has witnessed students boost their confidence and excitement about reading.
Denni attended Detroit Public School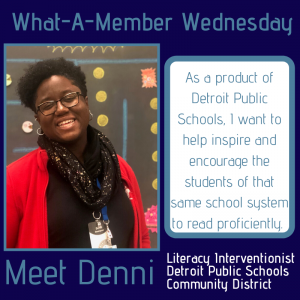 s as a child, and she sees K-3 Reading Corps as a way to give back to the district that educated her. She hopes that through her service, kids will develop the same love for reading that she had when she was their age.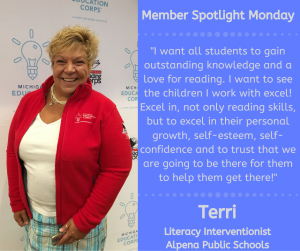 When Terri first heard about K-3 Reading Corps, she was reminded of a rewarding experience working with young children in college. She hopes to that the kids she serves excel in reading, personal growth, self-esteem and self-confidence as she helps them develop their reading skills.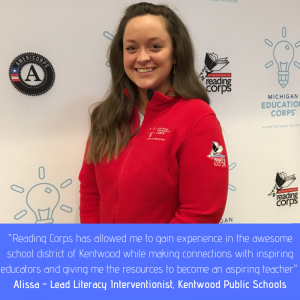 Alissa has always wanted to join the Peace Corps, but also wanted to serve her own community. When she found AmeriCorps service opportunities through Michigan Education Corps, she knew that this was the right opportunity to make a local impact. In her third year of service, Alissa has had an opportunity to gain experience in a school district and make connections that will help launch her into a career in education.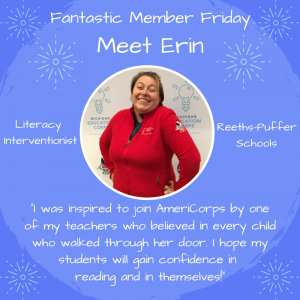 Erin is serving with Michigan Education Corps to gain experience in the school setting and make connections in her community. Her inspiration to serve was her 5th grade teacher who believed in that every child who walked through her door. She hopes that her students gain confidence in their reading and in themselves.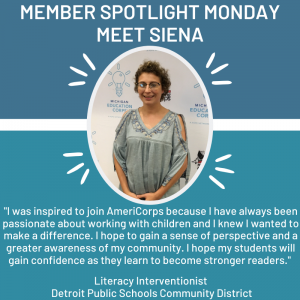 Siena serves in Detroit Public Schools as a K-3 Reading Corps interventionist. Siena has had a life-long passion for working with children and a desire to make a difference in the community. Through her service, she hopes to gain a sense of perspective and awareness of her community, and hopes that her students will gain confidence as they become stronger readers.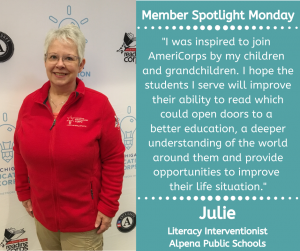 Julie is serving in her hometown of Alpena in northern Michigan. Like Siena, she hopes to build a strong connection with her community while making a positive impact on the lives of students there. She believes that in becoming better readers, students will have a deeper understanding of the world around them and that they'll develop a sense that reading is enjoyable and fun.