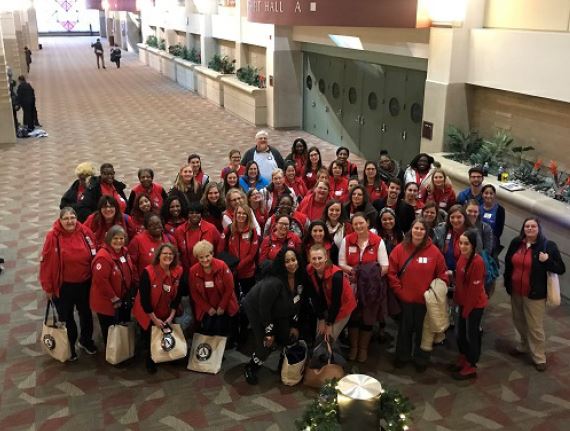 MEC July 2019 Newsletter
Michigan Education Corps Newsletter 

 

Our Impact in the 2018-2019 School Year

 

Michigan Education Corps (MEC) implements three program models, all with the same objective: empowering kids to overcome academic challenges to achieve their highest level of independence in reading and math. Here are some impact highlights from each program.  

K-3 Reading Corps Interventionists served 2,329 students. Of the students tutored, 72% exceeded their target growth for the school year which means they are on their way to being successful readers. K-3 students improved their understanding of letter names and sounds, and their reading fluency and comprehension.

PreK Reading Corps Interventionists served 116 students at 9 schools. Throughout the year, interventionists completed 25,757 minutes of tutoring. Students had growth in their vocabulary, phonological awareness and letter names and sounds.

MEC Math Corps Interventionists served 165 students in 7 Kentwood schools. 73% of fourth graders who participated in Math Corps exceeded growth targets for the school year.





2018-2019 MEC team at Member Celebration in Lansing, MI

 

 

Michigan Education Corps staff who directly supports interventionists across the state

Thomas (Tom) Bobo, AmeriCorps Program Director

tbobo@hopenetwork.org, (616) 490-4529

Tom is responsible for the management of training, onboarding, development and support of the AmeriCorps members who
serve on behalf of MEC. Tom also ensures that our programs meet compliance standards and program outcomes related to the AmeriCorps grant. Tom directly support MEC Math Corps interventionists and K-3 Reading Corps interventionists in Kentwood, Decatur, Zeeland and Allegan.

Information about fingerprinting, ordering gear and other onboarding tasks will come or has already come from Tom. Please check your inbox for this information. 

 

Grace Kelley, AmeriCorps Coordinator


gkelley@hopenetwork.org, (616) 916-2807     

Grace is focused on member engagement and support. Grace directly supports all PreK Reading Corps members and K-3 Reading Corps Members in west and north Michigan.

 

Kaye Sutherland, AmeriCorps Coorinator


ksutherland@hopenetwork.org,

 (616) 913-8127

Kaye is also focused on member engagement and support. Kaye directly supports K-3 Reading Corps Members in mid and east Michigan.

 

 

 

 

Tina Lauritzen, MEC Executive Assistant

 clauritzen@hopenetwork.org, 616-915-3876     

Tina is the newest member to our team! She is responsible for the
day-to-day administration of Michigan Education Corps and takes pride in a
relationship based personal approach to the team. This approach is a vital
component in the success Michigan Education Corps. 

Information about training registration will come from Tina. 

 

 

These are important tasks to complete before Institute in August!

Tom Bobo has sent you information about these deadlines and reminders, but they're so important, we want to give them to you again!

1. Paperwork – you will need to
complete some paperwork at a regional in-person session with a member of the
MEC Staff. 

2. Fingerprinting (Fieldprint) – you must be fingerprinted as part of an FBI Background Check. Check your email for instructions from MEC staff on how to schedule this appointment at a regional location nearest to
you.

3. Enrollment (MyAmeriCorps) –   All
members must complete their MyAmeriCorps Enrollment invitation prior to their
start date. Keep an eye out for an
email from: myamericorps@americorps.gov or epayments@americorps.gov

4. Order your gear by July 28th! You'll receive a fleece zip-up jacket, polo, lanyard and badge. All gear will be given to you at training.

5. Institute Training and Orientation Registration- You must complete registration for training. This will ensure you have a hotel room, meals, dietary requests and materials prepared for you. 

6. Enjoy your summer! We are so excited that you are a part of our team and we cannot wait for you to begin your service term with Michigan Education Corps!